In this article, you will find a handy collection of purchase invoice templates. These templates are available both in editable as well as PDF formats. Purchase Invoice templates and samples can save a lot of your time and effort when generating or issuing invoices to your clients or customers. You can also customize any suitable purchase invoice template by downloading it in editable formats. Just click the download button in front of the template's preview image and the template is yours to use.
Editable Purchase Invoice Templates
Executive Purchase Invoice Template
Company's Purchase Invoice Template Excel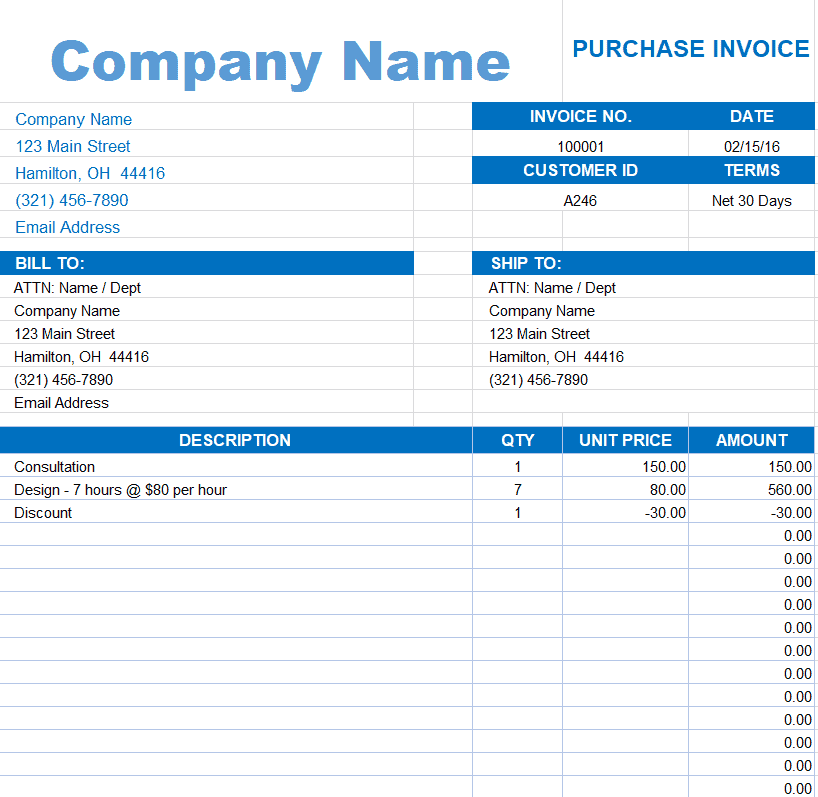 Blank Purchase Invoice Template in WORD
Simple Purchase Invoice Template
Business Purchase Invoice Example
Goods Purchase Invoice Template
Official Purchase Invoice Template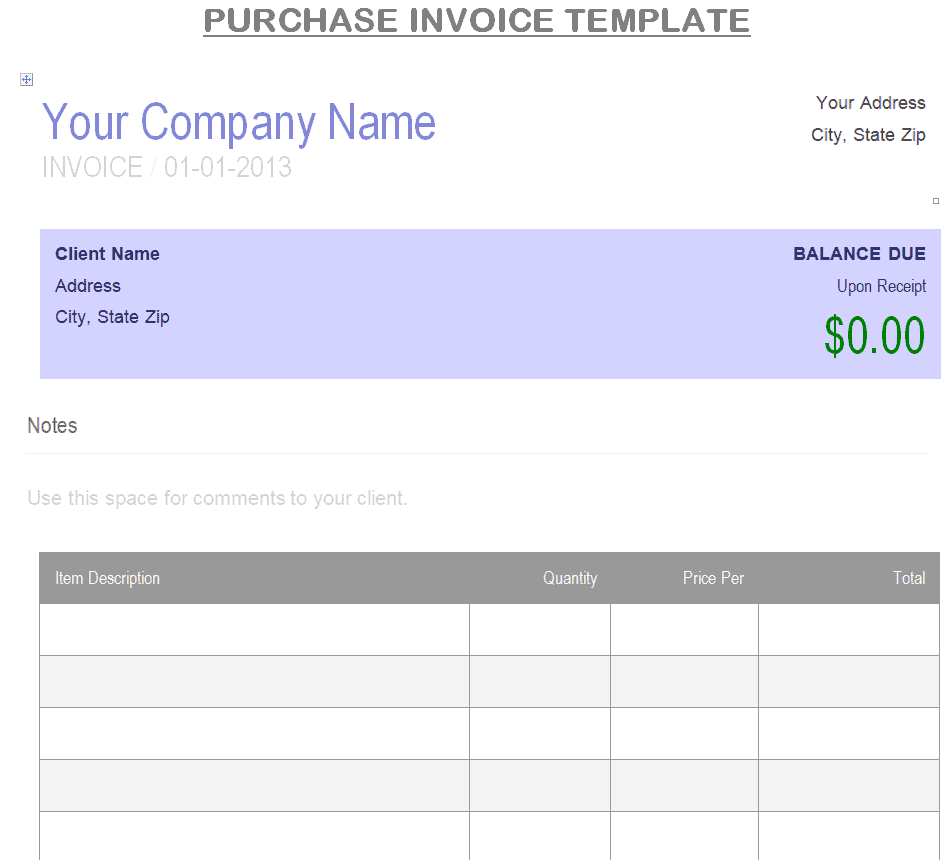 Editable Purchase Invoice Template in XLSX Format
Sample Purchase Invoice Template
Customizable Purchase Invoice Template
Material Purchase Invoice Template WORD
Car Purchase Invoice Example
Equipment Purchase Invoice Template
What is a Purchase Invoice?
A purchase invoice is simply an invoice issued by the seller to the buyer for the goods purchased or services rendered by the buyer. The seller or supplier issues the purchase invoice simply to request or demand payment from a client or customer. Of course, such a demand can also be made by word of mouth but the proper and official way is to issue a purchase invoice in the name of the buyer.
Actually, purchase and sales invoices are the same thing and are used interchangeably. It's only different with respect to perspective i.e., an invoice is a sales invoice for the seller whereas that same invoice is a purchase invoice for the buyer. In the seller's financial statements, this invoice will be recorded as their revenue whereas, for the buyer, the same invoice will be recorded as purchases in their financial statements.
A purchase invoice can not only be issued only for the purchase of goods or services. Some other examples are:
vehicle purchase invoice
equipment purchase invoice
retail invoice
material purchase invoice
It is the duty of the seller to issue a proper purchase invoice. So, whoever buys anything, the seller must issue a correct purchase invoice in the buyer's name with all the necessary details and information.
Reasons to Issue a Purchase Invoice
Generating and issuing purchase invoices is quite important for businesses. There might be a lot of reasons why issuing the purchase invoices is necessary. Some of these reasons are given below:
Purchase invoices minimize the chances of any confusion and misunderstandings between the seller and the buyer. As everything is properly documented, it helps avoid any conflict between parties to a transaction.
Before any legal proceedings against a customer or client for non-payment, it is important to issue an official purchase invoice. As mentioned earlier, it is the responsibility of the seller to issue the purchase invoice in the name of the customer. The law also requires that before any kind of legal proceedings against a customer, the seller must have issued the purchase invoice.
A purchase invoice can be used as concrete evidence in case of any lawsuits or legal proceedings pertaining to any type of non-payments.
Both sales and purchase invoices are very important to retain so as to always keep the financial records up to date.
With the help of such invoices, you maintain the financial records of the business that will help you take important decisions in the future. So, it is important to keep proper track of all types of invoices and make sure that they are free from errors or mistakes of any type.
A purchase invoice is a legally binding document that confirms the type of goods or services and their prices.
Printable Purchase Invoice Templates
Online Retail Invoice Template
Corporate Purchase Invoice Template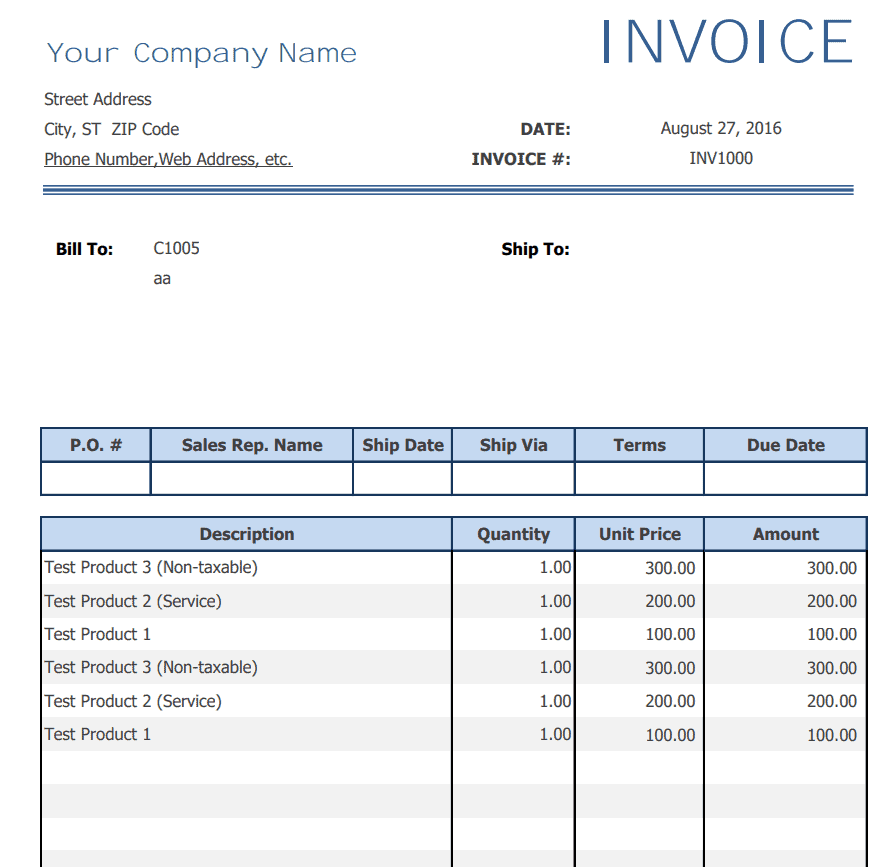 Company's Purchase Invoice Sample PDF
Furniture Purchase Invoice Template
Purchase Order Invoice Example
Printable Business Purchase Invoice Template
Vehicle Purchase Invoice Template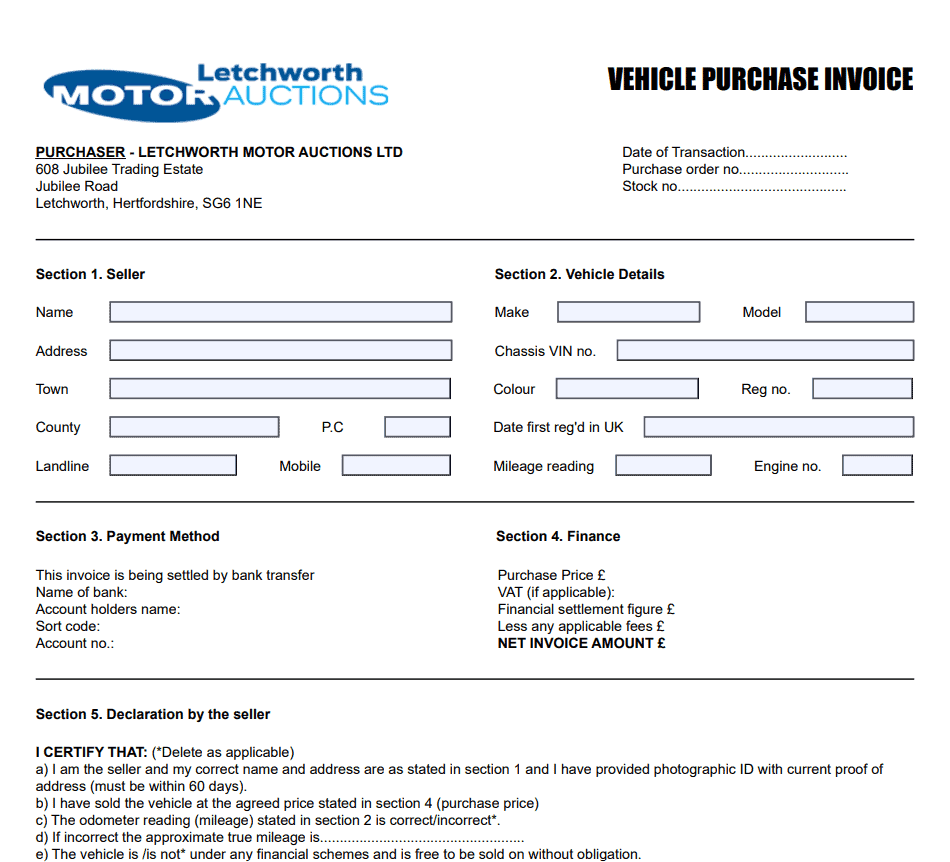 Sample Retail Invoice PDF Template
Basic Elements of a Purchase Invoice
Using the pre-formatted purchase invoice templates and samples will save a lot of your time and effort. However, if you want to make your own purchase invoice template, then you must know about the basic elements of a purchase invoice. Include these basic elements along with the provided below details and information so as to make your purchase invoice official and professional.
First thing first, add a header containing the word 'Invoice'. This must be placed at the top center, right, or left as you wish.
To make it look more official and professional, create the invoice on the business letterhead. You can take a look at some amazing letterhead templates here.
Include business details like:

Business Name
Logo
Postal Address and Registered Office Address (if they are not the same)
Email Address
Zip Code
Contact Information
Website Link (if any)

Purchase Invoice Number
Details of the Customer like:

Customer Name
Shipping Address
Contact Details
Other details depend on the type or nature of the transaction

Date of generation or issuance of the invoice.
Details of the goods or services availed like:

Names/Lists of the products
Codes of the products
Short Descriptions of each product type
Quantity of each product
Per unit price of each product
Total price/cost for each product type
The total amount of the purchase invoice (by adding the total prices/costs of each product type)

Amount of tax, fee, or any other charges.
Terms and conditions of payment.
Mode of payment, if agreed upon earlier by the buyer and the seller.
Space for the signature of both seller and buyer.
A short thank you note or message for the customer.